All enamel pins are filled and polished by hand. As a result, there may be small variations or slight defects from pin to pin. Please keep this in mind while buying!
That being said, all pins are personally inspected and sorted before shipping to ensure everyone receives the same standard of quality.
Pins are sorted into three grades: standard, seconds, and unsellables.
Standard Pins (A-Grade)
Standard pins are the highest grade that I offer. Since they are handmade, they may have minor cosmetic imperfections.
Examples of possible Standard Pin imperfections:
small buff marks or scuffs on the metal/enamel
minor metal discoloration
minor specks on the surface of the enamel or inside epoxy
minor plating inconsistencies
Seconds Pins (B-Grade)
Seconds pins have more noticeable flaws and are sold at a discount.
Examples of possible Seconds Pins imperfections:
smudges or staining
trapped lint
small unfilled areas
noticeable scratches on the metal and enamel
heavy oxidation of the metal
specks or pores in the enamel
bent posts/backings
uneven epoxy surfacing
small air bubbles in the epoxy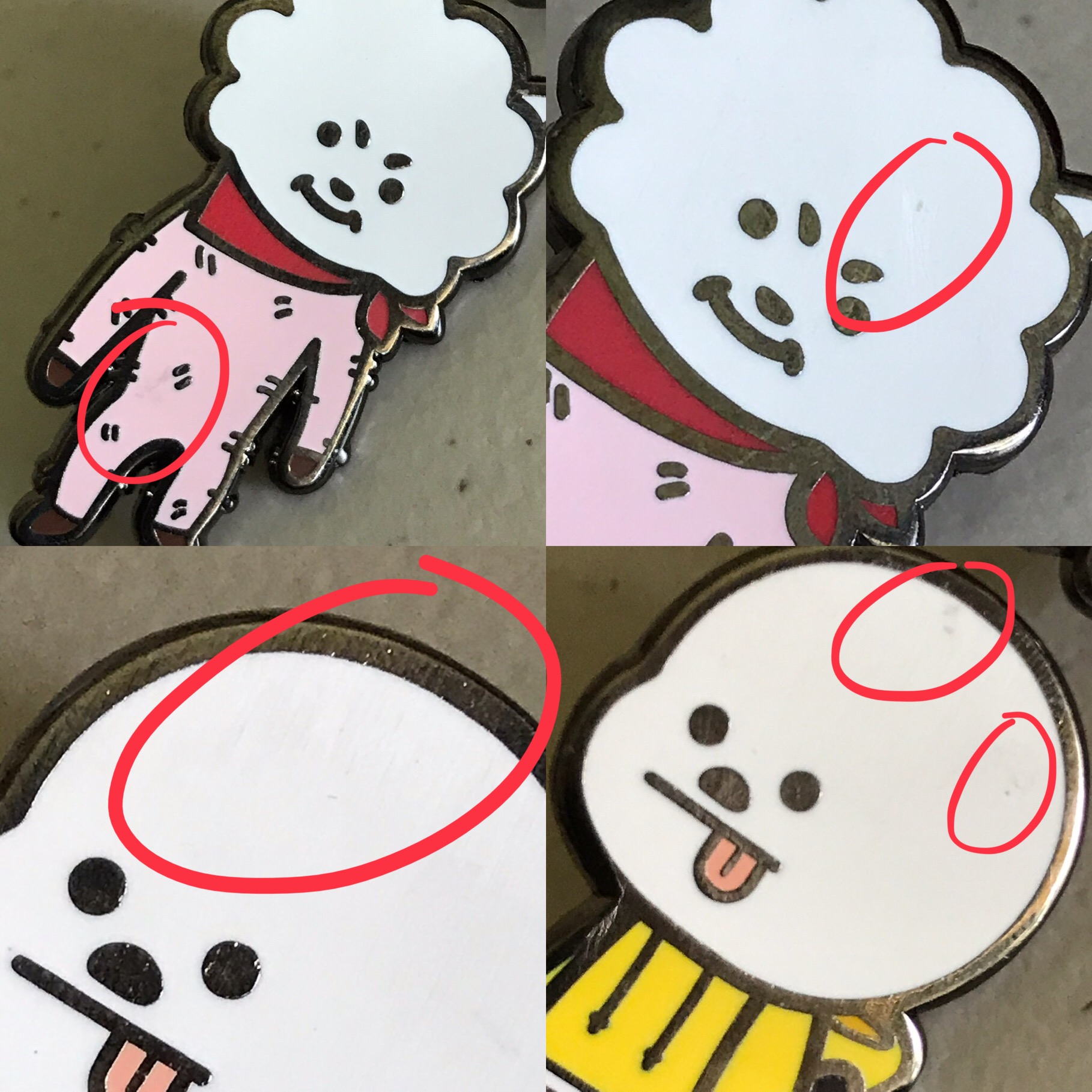 Unsellable Pins (C-Grade)
Unsellable pins have major, noticeable flaws. These are not sold to customers unless requested, and are heavily discounted. If you would still like to purchase a C-Grade pin, please contact me directly.
Examples of possible Unsellable Pins imperfections:
loose posts/backings
major unfilled areas
incorrect color placement
overfilled enamel
areas missing epoxy
If you have questions about the type of pin you are receiving please feel free to contact me! I'm always happy to provide photo samples of specific pins to ensure that you get the pin quality you're looking for.